7 Local Artists Brisbane 
Many of the budding artists are inspired by the colourful environment as well as the breathtaking scenery that delights visitors and locals alike all year. Get to know the top 7 local artists in Brisbane who are now residing in Australia's third-largest city.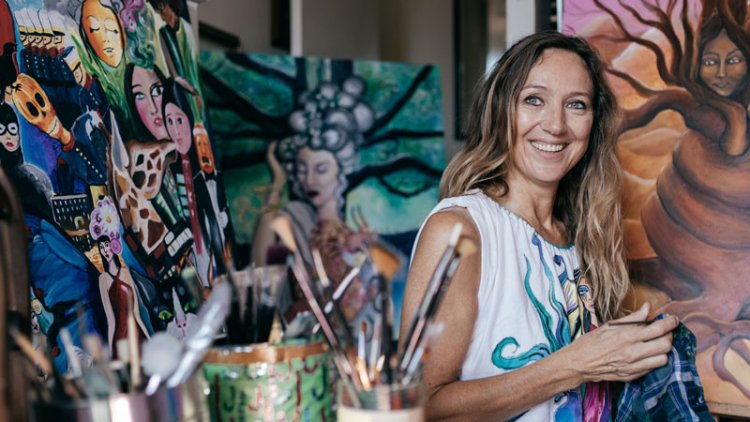 Brisbane is a flourishing metropolis famed for its subtropical beaches, thriving diverse culture, and, of course, some of Australia's most talented young and independent artists. Here are the top 7 flourishing artists who are famous for their creative minds and techniques.
1. Brisbane's Best-Selling Artist - Franko
Paul Franklin, the guy behind the enigmatic alias Franko, was first revealed in 2017. He became known for his use of colour and texture is primarily abstract and pop-themed artwork as a multi-disciplinary artist. Franko's year was definitely one of the most significant in his career so far in this: he got praise for his work from numerous platforms such as ''The Block'', and he was last year's top of the competition seller. Franko's penchant for large-scale abstraction and pop art has given him a distinct voice and made him a collector favourite. Everything on the canvas is his love for texture, character, and colour which is authentically portrayed.
2. Brisbane's Traveller- Erin Nicholls
Erin Nicholls' art represents a well-lived, smart life, from mastering Old Masters' oil painting methods in Florence to travelling across the world for inspiration. Previous experiences inform a body of work that speaks to anybody who has ever felt like an outsider or acknowledged that a moment and place will never be replicated; sentiments that most of us have likely had when visiting a foreign country. Erin's earlier series of photo-realistic sketches encouraged viewers to pay greater attention to what is in the periphery. A Year in Japan is a series that wonderfully portrays the feeling of becoming a "perpetual tourist." Erin has recently changed her attention away from street images and into floral artworks using her unique method.
3. A Tribute to Brisbane's Beautiful Surroundings - Meredith Howse
Meredith Howse has slowly but strongly positioned herself as an award-winning landscape artist in Australia's ever-changing art scene in mid-2017. Meredith's motivation and approach to her art now are definitely influenced by a deep-seated desire to paint as a kid visiting the seaside cities of New South Wales. While landscapes, water, and shadows are common subjects in Meredith's work, the manner of her work differs significantly. Meredith is now making a series of abstract paintings inspired by her childhood interest with Australian opals' colour and opalescence.
4. Realism Meets Abstract- Ashvin Harrison
Ashvin Harrison is a best-selling artist who uses art to inspire people for the future by focusing on the good aspects of life via beautiful, captivating, and meaningful artwork. His paintings portray the realism of everyday life, as well as its colorful ups and downs. Ashvin's realistic charcoal shapes collide with chaos in the unexpected nature of splashed color in a synthesis of creative genres. In doing so, he presents his own interpretation of how to depict the abstract and complicated subject of real empathy.
5. The Impasto Artist- Angela Hawkey
Angela was nurtured in an artistic family with creative traditions, and as a result, she has dabbled in photography, graphic design, pottery, and a variety of other mediums. Angela Hawkey has a creative streak that runs through her veins. The view of paradise she now enjoys on Queensland's Gold Coast brings life to her canvases in her well-known landscape paintings. Angela is happiest when she's holding a paintbrush in her hand and approaching the canvas with an unexpected, spontaneous mentality. Angela's style is characterised by rich, layered landscapes, abstractions, and still life, with color and texture taking center stage.
6. Brisbane's International Favourite- Loui Jover
Welcome your fresh start on life, antique books. In Loui Jover's widely collected work, the fragile pages of neglected old novels are recreated as ordinary characters. Loui usually attaches these sheets together, giving his work a fragile quality. These serve as a backdrop for mostly portraiture, in contrast to Loui's harsh black ink lines. Loui's pieces don't last long, so if you appreciate his aesthetic as much as everyone else.
7. The Brisbane Photographer- Jane Long
Sometimes the truth isn't enough. Then there's Jane Long. Jane produces a surreal world by mixing photography and photo editing, straddling and frequently exploring the border between truth and imagination. We adore Jane's art because it's easy to get lost in the abstract, ethereal quality of it. Two of Jane's most well-known series have dealt with quite different subjects. The smooth movement of being underwater, as well as the sensation of microgravity it communicates, is celebrated in her other most-loved series, Ink.