Maxwell Deladem Xonu- EBAPreneur
Maxwell Deladem Xonu founded EBAPreneur in order to provide an environmentally friendly atmosphere.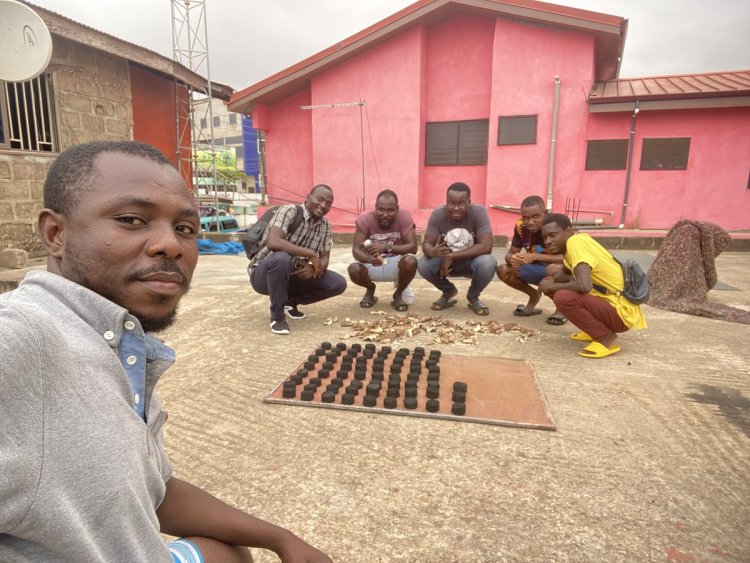 Mr.Xonu with his team of volunteers working towards a sustainable environment.
EBAPreneur is a climate-action business that consists of two main things: encouraging good climate impacts with clean energy and clean fuel with solar driers and assisting cassava local farmers with post-harvest loss.
Education
Graduated from University for Development Studies in the year 2014 in Bachelor of Science (BSc)Field Of StudyComputer Science. In Bsc. Computer Science A case study of Gognia, Upper East Region was done over Penetration of Mobile Money in Rural Areas. Earlier a diploma course in Business Computing Field Of Study in Computer Software Engineering was done by 2010. Pharmacy management system as final group project was finished during his diploma in Business Computing. A certificate course from Advanced Information Technology Institute was accomplished in the Field Of Study Foundation of Software Development Grade in the year 2009.
Ghana Environmental Status
Ghana is one of the nations that have signed the Paris Climate Change Agreement, formalizing their resolve to combating climate change on a global scale. Ghana intends to cut its emissions by 15 to 45 percent through these pledges by 2030. This is to be accomplished concurrently with Ghana's long-term development vision's major socio-economic development goals of food security, income, employment, and entrepreneurship possibilities for youth and the whole population, and macroeconomic growth development. Ghana has one of the greatest rates of deforestation in Africa, and emissions will rise by 1.4 percent each year if current trends continue.
EBAPreneur Beginning
EBAPreneur founder Maxwell Deladem Xonu's motto was to maintain an environmentally friendly atmosphere. The name EBAPreneur stands for ''Ebba'' which means echo-based system adaptation, and ''Preneur'' defines someone who is providing solutions in the echo basis system adaption. EBAPreneur is a social company that promotes good climate benefits while also assisting local farmers with post-harvest loss. The Ghanaian entrepreneur and his crew got help from the United Nations Environment Program in Nairobi before forming EBAPreneur. The supporters of the program taught and supplied them with the skills they needed to make briquettes and solar driers. Following the acquisition of the required skills, the young social entrepreneur set out to establish one of the country's most creative agriculture value chain companies.
EBAPreneur, which was founded in 2019, manufactures briquettes from waste materials such as corn husk, cassava and potato peels, and sawdust. In addition, the business manufactures solar driers using locally available materials to assist farmers in reducing post-harvest loss. Solar driers generate a sufficient temperature for drying harvested agricultural products, such as cassava, more quickly and without causing any environmental disruption. Mr. Xonu and his crew of approximately 15 similarly minded youngsters are constantly improving briquettes. They're working on making the briquettes even cheaper than charcoal, but of higher quality that'll burn longer, be more combustible, and emit less smoke. They are also developing around efficient raw material supply and distribution platforms in order to eventually supply the entire nation with inexpensive fuel briquettes and put an end to the usage of firewood and charcoal in order to reduce Ghana's excessive deforestation. Their altruistic labour directly contributes to the achievement of Ghana's clean cooking policy aims and NDC promises.
Environmental Friendly Equipments
As briquettes are less expensive than charcoal, last longer, put less strain on forests, and emit little to no soot into the environment In this regard, Maxwell and his colleagues have successfully installed solar driers in two districts for the pilot stage. Their current solar drier is 10 by 7 feet and it can dry up to 250 kilograms of cassava at a time. The team has accomplished this in the Volta and Eastern regions, respectively, in Apegusu and Akotikrom. Owing to socioeconomic constraints, 60% of Ghanaians continue to cook with firewood and charcoal. Less than 1% utilise electricity, while less than 2% use LPG. They just want numbers to change, and Maxwell believed this is what EBAPreneur is advocating,"
Current Achievements of Maxwell
Maxwell and his crew were named champions of the Israeli Green Innovation Competition earlier this month, an initiative that encourages ecologically sustainable innovation projects by young Ghanaian businesses. EBAPreneur was chosen as the winner of a highly contested final against four other finalists based on the uniqueness of their product, social impact capabilities, environmentally friendly nature, sustainability, and simplicity of using it. Maxwell was given a fully-funded trip to Israel to attend industry-related seminars, study best practices, network, and seek prospective investors to develop his current firm.
Mr. Xonu, a trained IT expert, discovered a chance to pursue his long-held interest in the environment. He is still being systematically led to developing his climate action company, which is focused on waste-to-energy healing solutions and agro-value addition. He envisions a future in which EBApreneur Solutions Ghana is the go-to provider of cheap and readily available clean energy-powered value-added services to farmers and clean cooking solutions to homes, restaurants, and organisations throughout Ghana's provinces. The noble, enterprising activities of such young people who perceive climate action as a source of solutions and revenue will result in real implementation.
Deladem's Contact Profile
Linkedin- linkedin.com/in/maxwellkojoxonu
Website- onthegoghana.com (Company Website)
Twitter- delademx