What is Invoice Processing
Receiving a supplier invoice, approving it, setting a payment processing date, paying the invoice, and then recording it in the general ledger is all part of invoice processing. Read the entire article to know what is invoice processing and how to make one with Mr. Biller.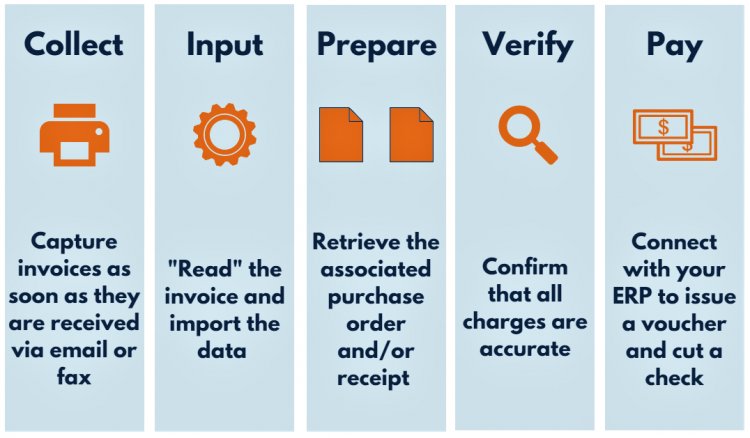 The above image depicts the stages involved in invoice processing.
It's an important part of running a business. Vendor bills that aren't paid on time might disrupt your inflow of services, supplies, and raw materials, as well as harm your supplier relationships. One or two late payments may be excused, but your business will suffer if you continue to be late. When it comes to invoice processing, excuses like "the cheque is in the mail" just don't cut it anymore, thanks to technological improvements.
Definition of Invoice Processing
Invoice processing is the sequence of procedures that occur from the time a supplier invoice is received until it is paid and entered in the general ledger. Whether you receive an invoice by mail, as a PDF attachment to an email, or as an e-invoice, you must first manually or automatically integrate the content into your accounting system. The invoice then goes through a workflow approval and payment process.
Important Points to Remember
Bills will not be paid on time if an effective invoice processing procedure is not in place.
Check all supplier bills for clarity as soon as they arrive to make sure the products or services being billed have arrived.
Before scheduling the bills for payment, send them to the necessary approvers.
If there are any differences between the amounts charged and the quantities received, resolve them as soon as possible to avoid paying bills incorrectly.
The invoice should be recorded into the general ledger after it has been paid.
Workflow for Processing Invoices
It's critical to set up a smooth invoice processing process. This workflow, at its most basic level, entails:
Receipt of Invoice: The accounting department will check to see if the goods or service was purchased. The amount billed will then be compared to the amount on the original purchase order (PO). If there is a disparity between the amounts charged and the PO, it must be rectified with the supplier before the invoice is sent for approval.
Approval of Invoices: If the data on the invoice is valid, it is subsequently routed for approval in alignment with business regulations.
Payment of the Invoice: Once accepted, the invoice will be paid according to the conditions agreed upon with the vendor.
Businesses may opt to pay an invoice early in order to receive a discount in specific instances. Your account management department will be more efficient if they can track what's due to suppliers, verify payments are correctly approved, and execute payments using an established invoice processing protocol. Accounts payable information must be correct in order to produce a precise balance statement.
Invoice Processing
Once all of the processes above have been performed and the invoice has been authorised and uploaded into the system, the invoice may be processed for payment.
Invoice Processing- Journal Entry
When you get a vendor invoice, users must input it into your accounting system. The invoiced amount becomes an account payable (AP) and is generally reduced as a cost on the income statement after being recorded as a liability on the balance sheet.
Automated Invoice Processing
Manual invoice processing is inefficient, complex and prone to errors. Research states, 50% of businesses have yet to automate their accounts payable operations, while 24% scan and email invoices and 23% rely on manual processes. Accounting teams can save time and money by automating the invoice handling process.
Create Easy Invoices with Mr. Biller?
Mr. Biller is one of the best free invoicing tools. Create free online invoicing easily by yourself. Mr. Biller provides high-end safety during invoicing. We built up our product since we were unable to locate a simple, moderate software for organisations that need to create heaps of invoices in a limited time. Mr. Biller's simple 6 stage measure assists your business with a splendid invoice with zero brandings.
Add organisation information.
Round out client information.
Add description, rate, and amount.
Enter tax rate, currency, and discounts if applicable.
Add installment guidelines and terms in the Notes area.
Customise your invoice by adding a logo and browsing from an excess of 10 diverse plan layouts.
You can migrate from any invoicing software to Mr.Biller easily. Get in touch with us and move your finances smoothly.
Contact:+617 210 23 583
Website: https://mrbiller.com/
Address: Mr.Biller, 5 Bayford Street, Oxley, QLD, 4075, Australia