Smith and Sons- Queensland
Smith & Sons are high-quality builders specialised in home renovations and extensions from the start to the end.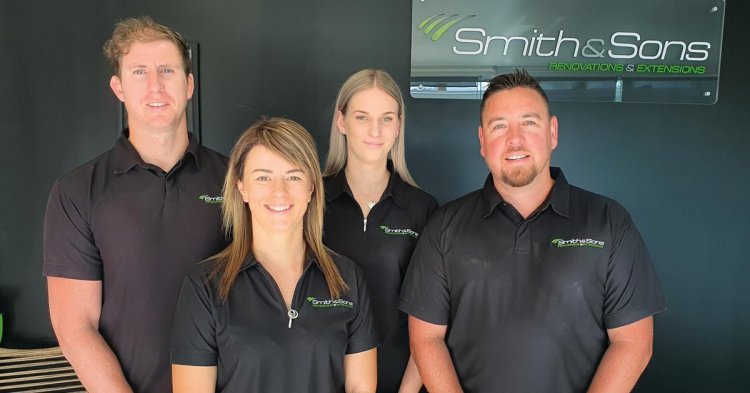 Smith & Sons Renovations & Extensions is Australia's and New Zealand's biggest home remodeling firm, having over 75 offices in both countries. Smith & Sons are the trusted authority in the residential home remodeling industry, now in their tenth year of business. Smith & Sons has experienced renovation builders who complete high-quality residential and business renovations on schedule and within budget. Their all-inclusive approach to home renovations means that they handle all parts of the project, from original concept to development and design, making the experience straightforward and smooth. Smith & Sons also offer a good business opportunity for builders who wish to step away from the equipment and manage their own professional remodeling company. They give the methods, resources, and tactics to help any remodeling firm grow into a professional, lucrative enterprise.
Transform Your Life with a Smith & Sons Home Renovation.
Whether you've been remodeling to enhance the value of your home or to build a dream home for your family to enjoy for the next decades, their experience as renovation professionals allows us to design the completed work to your exact specifications. Renovating may be a difficult task. There is a lot to think about and then organise, but that is precisely what they do every day. They use their expert knowledge and proven processes to remove stress as they work with you on the planning stage to bring all of your ideas and expectations together, all the way through, and provide you an entirely new life with a new home. Renovation of an old structure necessitates a different set of skills and ways to solve problems than building a home from the scratch. As renovation professionals, the Smith & Sons teams have met and conquered the particular challenges of remodeling on several occasions.
Team
Several localised family businesses are part of the Smith & Sons family. Since they have experienced the particular delights of success and stress that family life can offer, the builders appreciate the unique joys (and tension) that it offers. You don't need added pressure from the remodeling process while you're striving to construct something beautiful for your family's future. They understand that life goes on throughout a renovation, and they use compassion and adaptability to minimise the impact of the construction on your life. You could discover that renovating was not just something you got through, but also something you cherished.
Services for Home Renovation
Over the past 10 years, they have executed over 15,000 home renovations, each one as unique as the individual. The expertise with different kinds of renovations has helped everyone to fine-tune the home remodeling process to guarantee that each project works smoothly and fulfills the expectations of the customers. It's indeed essential that they provide an outstanding home renovation while also ensuring that you and your family enjoy the incredible time of upgrading the home. They hope that every customer is left feeling genuinely happy with the conclusion as well as the process to get there and that they would not hesitate to entrust them with their most valuable asset again or refer them to relatives and friends in the future.
Their extensive experience includes the building of decks and pergolas, the restoration of bathrooms, kitchens, and laundries, garage conversions, modest house extensions, and, wherever necessary, entire home makeovers, second-story expansions, and knock-down rebuilds. The builders understand that your home is your cocoon and that whatever scale and scope of improvements you desire, it will most likely be one of the most significant projects you've performed. As a result, they act not just as builders but also as trustworthy consultants throughout your particular remodeling project.
Contact- 1300787577
Website- www.smithandsons.com.au