Top 5 Cleaning Services- Brisbane
A cheerful house is one that is tidy. Unfortunately, not everyone has the time or energy to clean their homes owing to hectic job schedules. Here are the top 5 cleaning services in Brisbane which you should check out if you run with a tight schedule.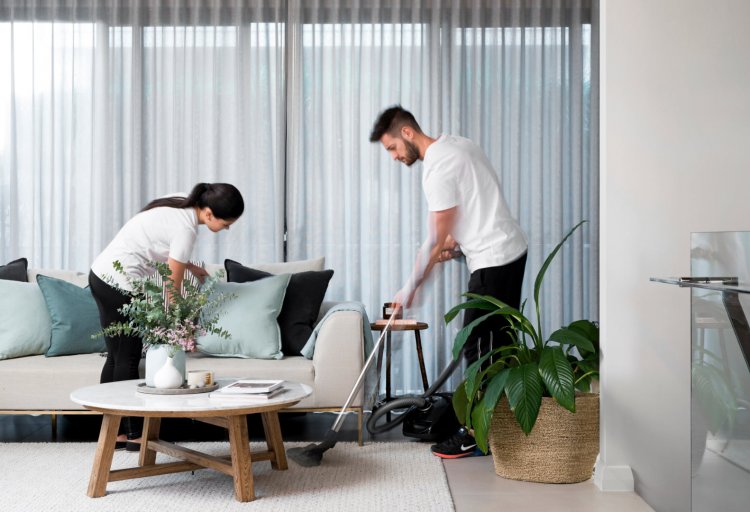 It's a good thing there are house cleaning services that can be accessed with a single click! We've put together a list of the most efficient, systematic, and dependable house cleaning services in Brisbane. To schedule a service, simply contact them by email or telephone. You may even request a quote before scheduling them to come to your home. Check out our selection of service providers to discover which one you prefer.
1. Nest Home Services
Nest Home Services is a family-owned & managed small business with generations of cleaning experience, and all family members and are still actively involved in maintaining the business. Nest Home Services is your one-stop solution for all of your housekeeping requirements. They provide a wide range of services, from routine cleaning to reconstruction cleaning. Their crew is skilled, insured, and background-checked, so you can rest easy knowing you're in excellent hands. They not only clean the interior of your fridge and oven, and they also clean the rooms. By asking you to list your cleaning requirements, they can customise their services to meet your demands. If you want assistance with any domestic task, simply ask them and they will gladly assist you. They also provide carpet, leather, and mattress cleaning services.
Services- Spring cleaning, carpet cleaning, renovation cleaning, pre-sale cleaning, routine cleaning, bond, and rental cleaning
Website: nestcleaningbrisbane.com.au
Email: [email protected]
Contact: 0438 079 996
Address: 157 Thynne Road, Morningside, Brisbane, QLD 4170
2. Family Clean
Joey the Founder of Family Clean, is one of the greatest house cleaning companies in Brisbane. The organisation provides cleaning services that are properly insured. Family Clean has fully insured and authorised staff who are dedicated to their work. They exclusively recommend eco-friendly cleaners in order to safeguard the environment and your health. They've put each eco-friendly solution through its paces to ensure that you get a fantastic clean without the use of harmful chemicals. Your home will be cleaned with Australian and locally created products that smell wonderful. Family Clean is a network of cleaners that are experts in both general and one-time cleaning. They provide free fast quotes, gift certificates, and a simple ordering process.
Services- Housekeeping Services, Kitchen, Bedrooms, Bathrooms, Once-Off General, Detailed, Regular, Spring, Window, Property Presentation, Oven, Inside Windows, Cupboards and Fridge Cleaning, Ironing & Laundry Services.
Website: familyclean.com.au
Email: [email protected]
Contact: +61732542400
Address: 3/768 Brunswick Street, New Farm, Brisbane, QLD 4005
3. Maid2Match
In Brisbane, Maid2Match is a dependable and competent cleaning service company. Their cleaners provide outstanding outcomes in your home, and their customer support team provides the greatest customer service in Australia. For their regular houses, they have a 73-point cleaning procedure to guarantee that they are always on track. Every service they provide is backed by a complete guarantee. Their goal is to give a stress-free and dependable cleaning service. They arrive at your door with certified and qualified cleaners. In less than 60 seconds, you can acquire an online quotation. Maid2Match has over 30 sites around Australia where they provide cleaning services.
Services- Deep, Baseboard, Microwave, Stove Top, Bathrooms, All Areas, Kitchen, Dusting, Vacuum Carpet, Scrub and Clean Mirrors, Tile Scrub and disinfect the sink, remove cobwebs, clean cabinet doors, countertops, shower doors, and toilets, empty trash cans, sweep and mop the floors
Website: https://www.maid2match.com.au/
Email: [email protected]
Contact: 1800 207 686
Address: Brisbane & Surrounding Areas, Brisbane, QLD 4127
4. Family Clean
Family Clean has been in the cleaning industry for almost 25 years. Their small firm is an extended family of cleaners and housekeepers that value your home, family, and pets as much as you do. It simply takes a few minutes to make a reservation, and you'll get back hours of valuable time. Family Clean's flexibility and outstanding services have earned them hundreds of 5-star ratings online, so if you ever need to schedule fool-proof cleaning services, give them a call. 100% customer satisfaction guaranteed, eco-friendly cleaning methods, on-the-spot transactions, completely insured services, hand-picked cleaners, 25 years of expertise, and recurring services available
Services- Cleaning and housekeeping on a regular basis, general cleaning on a one-time basis, and comprehensive spring cleaning.
Website: https://familyclean.com.au/
Email: [email protected]
Contact: (07) 3254 2400
Address: 3/768 Brunswick Street, New Farm, Queensland, 4005
5. Brisbane House Cleaners
Brisbane House Cleaners is a family-owned and managed business that has been serving the Brisbane area for over 16 years. The cleaning crews are well-trained and in high demand all of the time. They dispatch small teams of two or three expert house cleaners to complete the work fast and effectively. They show the utmost respect for your home. They're trustworthy, efficient, and well-mannered. They work with skilled and trustworthy Korean cleaning crews. Their work is consistently high-quality, and their rates are competitive. They have a long range of cleaning techniques and services that always meet or exceed expectations.
Services- Cleaning services include regular cleaning, one-time cleaning, end-of-lease cleaning, pre-and post-sale cleaning, and window cleaning, as well as oven cleaning, carpet cleaning, tile & grout cleaning, office cleaning, initial cleaning, and any other task that is desired.
Website: https://www.brisbanehousecleaners.net.au/
Email: [email protected]
Contact: 0430 438 260/ 0402 779 024