Budget Friendly Painters- Kraudelt Painting-Brisbane
Craig and Louise Kraudelt are the founders of the Kraudelt painting business. For budget-friendly painters, Kraudelt Painting, Brisbane is the right choice for you.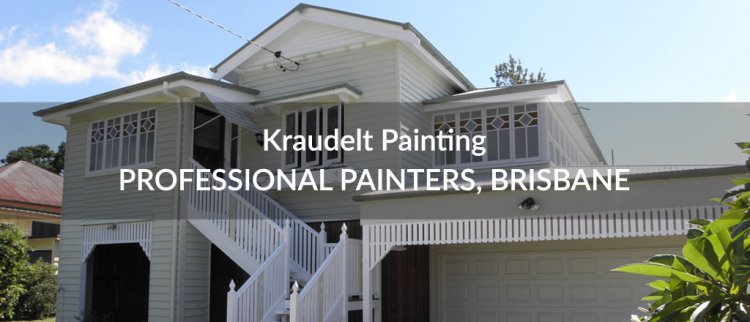 Kraudelt Painting is the home painting business you can trust, with years of experience, an established track record, and a dedication to customer service. They guarantee that you'll be satisfied with the quality of their solutions and service, or they'll fix it for free. They arrive on schedule and do a thorough job of preparing your property while keeping it neat and tidy. They have received over 160 positive feedback letters and 5-star ratings, demonstrating that they follow through on their promises. They eliminate harsh chemicals and follow paint disposal guidelines to reduce their environmental effect. They are one of the few CM3-registered painting firms in Brisbane.
Kraudelt Painting is a family company that enjoys changing spaces with paint. They have the ability to transform the old into something fresh and new. They may add value to your home by changing the character and atmosphere with colours and textures. Walls, ceilings, floors, doors, decks, windows, ironwork, wood, and furniture can all be enhanced and maintained well. Painting in Brisbane is lucrative and pleasant employment, which is why they enjoy it. While they enjoy themselves while working, quality and service are always prioritised. Inspections and checklists are used as part of the team's process to maintain quality control and guarantee nothing is ignored or forgotten. Kraudelt Painting has a team of trained painters, and they are fortunate to have a wonderful crew of happy, experienced, and highly competent painters, as well as an efficient administrative staff, to back them up.
Kraudelt's Services
Exterior Painting- With a spectacular exterior renovation, you may transform your home's street appeal and value.
Interior Painting- With fresh colours and a flawless finish, you may change the mood and attractiveness of your interiors.
Commercial Painting- It protects and improves asset value while also improving consumer and employee attractiveness.
Strata Maintainance- Regular upkeep to maintain asset value and improve shared areas for lot owners is referred to as strata maintenance.
Brisbane Residential Painters
Their extensive painting services include the following:
Brisbane painters for homes. With the power of paint, our team can completely alter the inside and outside of your house.
Bagging. As Brisbane's top home painters, we provide this one-of-a-kind alternative to render that produces a modern, appealing look for a fraction of the cost.
Consultation on colour.
Finishes in wood.
Brisbane Interior Painters.
Exterior Painting.
Wallpaper.
Brisbane Commercial Painters
Contractors for commercial painting on the Gold Coast and in Brisbane. In business, first impressions are essential. They can transform your old, outdated corporate space into a vibrant, modern oasis
Body Corporate Painters.
High Rise Painters.
Kraudelt's Commitments
The Brisbane painting crews are dedicated to providing exceptional customer service as well as a flawless paint makeover to all of their clients. They accomplish this by ensuring the following:
The staff arrives on schedule to meet you and examine your painting needs, ensuring that you are not kept waiting.
They provide you with a quotation that is accurate, thorough, and transparent, and then keep to it. Within two business days, they will send you a quote.
The job assigned to the team is always completed before the deadline.
Before painting, they spend time prepping your property. By utilising fresh, clean drop sheets to safeguard your floors and furnishings. They take their time cleaning, filling, sanding, sealing, and priming all surfaces before beginning to paint.
So you don't wind up with the incorrect finishes in the wrong locations, they only utilise the approved paint kinds for each surface and room type.
They clean, wipe, and vacuum to ensure that your property is left tidy and clean.
CM3 Certified
Kraudelt is one of the few CM3-registered painting firms in Brisbane. This is a difficult certification procedure that they go through every year to show that they follow the tight guidelines for dangerous products management, scaffolding and heights, first aid, and safety management.
Address: 17 Explorers Way, Mount Cotton, Qld 4165
Business Hours: Monday-Friday: 7:00am – 5:00pm Saturday-Sunday: Closed
Telephone: (07) 3829 5735
Website: https://kraudeltpainting.com.au/
Mr.Biller's Team Wishes All The Best!!