How to Start A Painting Business
You may manage a profitable painting business if you have the proper painter qualifications and abilities. In this post learn more about how to start a painting business.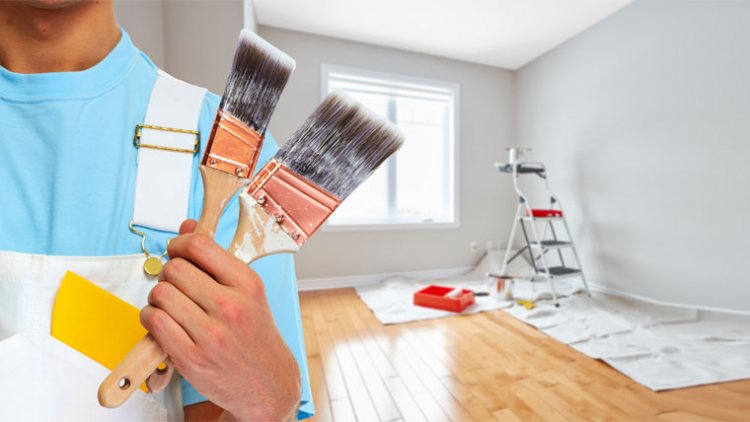 Starting a new business is an exciting concept, but knowing where to begin may be difficult. There are several elements to consider in order to guarantee that your company is built on solid ground. We've compiled some essential information on how to establish a painting business in Australia so you can get started right now.
What is the definition of a painting business?
Residential, commercial, and strata painting services are provided for both indoor and outdoor locations by a painting company. Wood treatment, wallpaper stripping and installation, spraying, specialised finishes, and colour consultation are some of the services offered by a painting company. Some companies are also qualified to deal with lead-based hazards.
What is the best way to start a painting business?
Develop a business plan to help you through all of the processes of beginning your painting business.
Select a market to target
If you're just starting out, think about if your job will be restricted to a specific geographical region, whether you'll be working with other firms, and whether you'll be working in residential or commercial locations. Investigate your key rivals to have a better understanding of your own company's standard and any gaps you can close.
Make a brand identity for yourself
Make a distinct brand name and logo for yourself. Then go to the Australian Securities and Investments Commission and register your business name (ASIC). You may employ a graphic designer or utilise graphic design tools and services to develop your brand logo, which should be distinctive.
Plan your transportation and obtain your driver's license
Your job necessitates the use of a vehicle. Consider purchasing a truck or a minivan to ensure that the vehicle you pick is large enough. During off-work hours, the truck will also serve as a storage space for your equipment. You may also want to consider a pre-purchase vehicle check to ensure that you are getting the most value for your money.
Examine your loan alternatives
If you need to make a significant investment in your company, you might wish to apply for a loan. You can receive a small company loan, a vehicle loan, or a personal loan, depending on your needs.
Take into account your insurance
Your painting equipment is the core of your operation as a painting company. So, in the unusual event that your tools are stolen or damaged, make sure you have tool insurance. Professional Indemnity Insurance may be required to safeguard your company from potential litigation fees.
Meet your legal obligations
Painting is classified as trade work by the government, so if the job is worth more than $5,000, including labour and materials, you'll need to apply for a contractor license. You may also need to have a Service Agreement and Cancellation Policy in place before commencing work.
Make a marketing plan for your business
One of the most important components of your company's success is marketing. Advertise your business and provide modest incentives to clients to help you build your brand. You could wish to create a website to assist clients to understand your company, its services, and any possible collaborations. To establish yourself as a professional painter who provides a high-quality service, you'll need to be familiar with painting techniques and paint materials. It also helps to be meticulous and have a strong aesthetic sense. In order to start a business, you'll need to have basic management and communication abilities. When beginning to launch, there are a few abilities and criteria to consider:
The ability to combine colors and patterns in a pleasing way
Organising abilities
Balance and strength are two aspects of physical dexterity.
Customers require good soft skills.
Be able to measure and utilise scaffolds and ladders to cover regions that need to be covered
Planning a project
Organize your time.
Qualifications and courses
Certificate III in Painting and Decorating is the most widely recognised painting qualification in Australia. This can be done through a certified training organisation like TAFE or through a traineeship. You'll also need a White Card, which is a credential that says "Work Safely in the Construction Industry." By law, anybody working on a construction site or on projects involving construction must have this card. In certain Australian jurisdictions, you'll need a painter's license to get started. Once you've registered for an Australian Business Number (ABN) and decided on a business name, you may apply for one of these:
New South Wales
Victoria
Western Australia
Queensland
South Australia
Northern Territory
Tasmania
To start a painting company, you'll need the following elements
Your painting company will primarily work out of your van or truck, with a variety of painting supplies on hand. Here's a list of some of the tools you'll need to start a painting business:
Trays for painting
Paint \Rollers \Brushes
Tarpaulin \ Ladders
Tape \ Sandpaper
A caulking gun is a tool that is used to seal joints.
Clothing that is protective
Masks for breathing
To operate your firm effectively, you'll probably need some basic computer software and equipment to handle the administrative side of things. You might require:
Mobile phone Computer
A company's website
Printer & Scanner
Software for mobile payments
Accounting Software ( For hassle-free accounting check out https://mrbiller.com/ )
Legal documents
Agreement with the client. This contract, also known as a Service Level Agreement, lays out your and your customer's expectations and duties for each task.
Agreement on Collaboration. If you're forming a partnership, you'll need to draft a contract that protects both you and your business partner.
Employment Contract. As you hire additional people or hire outside contractors, it's necessary to have Employment Agreements in place so that everyone is on the same page.