Bundy Juice for Bundylicious Fresh Juice
Bundy Juice for Bundylicious fresh juice is a family-owned and managed business in Queensland. What began as a modest business in Bundaberg has expanded to almost every state in Australia.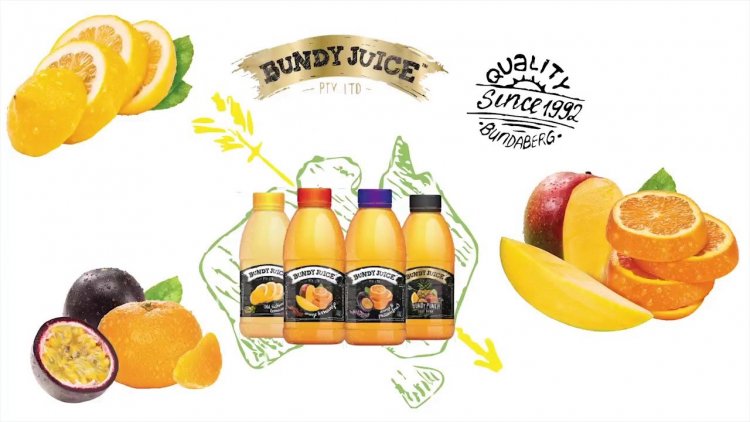 Bundy Juice Pty Ltd, based in Bundaberg, Queensland, is an Australian juice company. Bundy Juice premium fruit juices and fruit drinks have a distinct flavour that is simply "Bundylicious." Premium juices are available for convenience shops, supermarkets, and the foodservice and hospitality industries. Their collection comprises 99 percent Orange, Apple, Pineapple, Apple Blackcurrant Juice, 50 percent Tropical Juice, and 25 percent Old Fashioned Lemonade, all created and manufactured to their excellent old fashioned recipes.
Bundy Juice is a family-owned and managed business in Queensland. What began as a modest business in Bundaberg has expanded to almost every state in Australia. Bundy Juice's success has been credited to a high-quality product- ''Fresh juices''. The soft drink line features a wide range of fresh Queensland flavours preserved in a bottle.
Bundy Juice Story
Bundy Juice's humble beginnings may be traced back to Bundaberg, Queensland. In the summer of 1992, stores lacked a basic, old-fashioned thirst-quenching beverage. Bundy Tropical was developed from a wonderful balance of pineapple, orange, and passionfruit, seeds, and everything! The distinct flavour was an instant success with the locals.
After that, Bundy Juice was on a mission, developing their own versions of popular juices and drinks, as well as a premium line made with only the finest ingredients. To mention a few, there's 99 percent Orange, 50 percent Orange Mango, and, of course, Tropical. To meet the growing demand for Bundy Juice, a plant was built in the centre of Bundaberg. The plant has grown through time to become a stable enterprise with convenient access to Brisbane, Townsville, and Cairns, as well as their related export terminals. Norco, a dairy cooperative in southern Queensland and northern NSW, has established a joint venture with Bundy Juice as their authorised supplier. They are delighted to be associated with this Australian-owned business, which has been in operation since 1895. Bundy Juice was launched into the Coles Distribution Centre in Queensland in 2016, allowing the goods to be widely accessible to the general public in Coles shops across Queensland. Bundy Juice has a loyal following today thanks to its distinct flavour and high quality.
Bundy Juice Motto
The goal at Bundy Juice is to make their Bundylicious line of juices and drinks available not just inside the nation, but also internationally, by broadening their product selection. Bundy Juice is ready to spread across the globe, both locally and internationally.
Bundy Juice Product Range
The "bundylicious" fruit juices and beverages are available in a variety of sizes, ranging from the epic 300ml convenience store bottles to ideal 2ltr home fridge juices and larger cafe and hospitality 4 and 5ltr bottles. Amazing 99 percent fruit juices, no added sugar alternatives, and unique mixes like Bundy Punch are among their offerings.
Address: Bundy Juice, 19 Production Street, Svensson Heights, Bundaberg QLD 4670, Australia
Telephone: +61 7 4153 5244
Email: [email protected]
Website: http://bundyjuice.com.au/